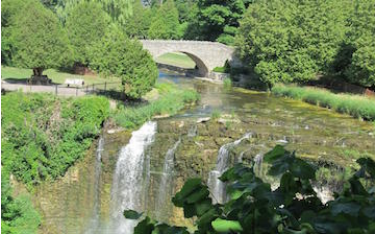 This beautiful valley is bounded north and south by two sides of the Niagara Escarpment with Cootes Paradise wetlands on the east and conservation lands to the west. Dundas boasts a proximity to the area's natural wonders and a shopping area that combines sophistication with a welcome small-town feeling. It remains one of the most desirable areas in Hamilton to raise families.

Among its many gems, Dundas houses a highly regarded independent art school, Dundas Valley School of Art. DVSA dates back more than 40 years to its founding by two art-minded citizens, Marion Farnan and Emily Dutton, who recognized the need for professional art instruction in the area. With a student enrolment just over 3,800, the DVSA offers part-time programs to residents from children to seniors and full-time programs to area high school students and post-grad students from other universities. In 1998 a new diploma program was launched with McMaster University. The Dundas Valley Historical Society promotes awareness of local history and the Dundas Museum & Archives highlights the stories of people and events that have shaped this beautiful valley town.

Take a stroll through Dundas and experience the unique charm and ambiance of a small historic town, from old buildings and quaint restaurants, to a host of specialty shops and food emporiums.